Kartina TV username and password recovery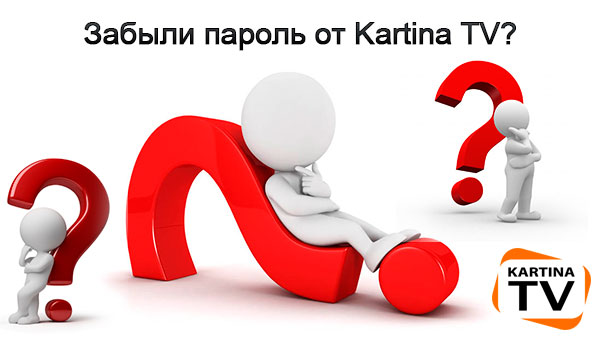 I think, many of us have found themselves in a situation where the password of the purchased subscription Kartina TV has been erased from the memory or lost. This situation is hard to accept as comfortable, especially when the time of favorite show of sport competition is coming.
Causes of loss Kartina TV subscription password can be different: you had to reset pristavka Kartina TV, bought a new box, or any other problem. And it has to be solved immediately, because nobody wants to remain without best Russian TV online, especially in the evenings, when the most interesting shows are underway.
In this small article we will try to tell in details, what should you do if you lost your Kartina TV premium package password.
I lost the password of the monthly subscription for Kartina TV premium package
First of all, you should check up your e-mail account that you use for shopping online, because we send all the required data concerning your Kartina TV premium package on specified mail after processing your order. It is also worth checking the spam folder and the trash. If these operations were not successful, then you have to remember if you are registered on our site or not. If so, then login to your personal account, where you can find all the information about purchase history and subscription data.
If you purchased the monthly Kartina TV premium package without registration, then you need to contact with our technical support by the numbers listed in the top of our site. Technical Support Services will try to help you, as long as you are customer of Kartina TV Brooklyn service. In another case, try to ask 24/7 technical support to help you, calling number 1 (888) 827 06 06.
I lost the password of the annual subscription for Kartina TV premium package
Again, first of all you should check out your e-mail, including spam and trash folders. If your searches were unsuccessful, then you need to contact Kartina TV support, by phone number 1 (888) 827 06 06.
We remind you that during the ordering process on an annual premium package Kartina TV service Kartina TV Brooklyn is acting as an intermediary for the convenience of our customers, so all your questions about the annual subscription Kartina TV, please, ask through the telephone number listed above!
We hope that loosing password of Kartina TV premium package will not disappoint you a lot, because we are able to solve any problem of our customers! Enjoy watching, always yours, Kartina TV Brooklyn USA.