Kartina TV on Roku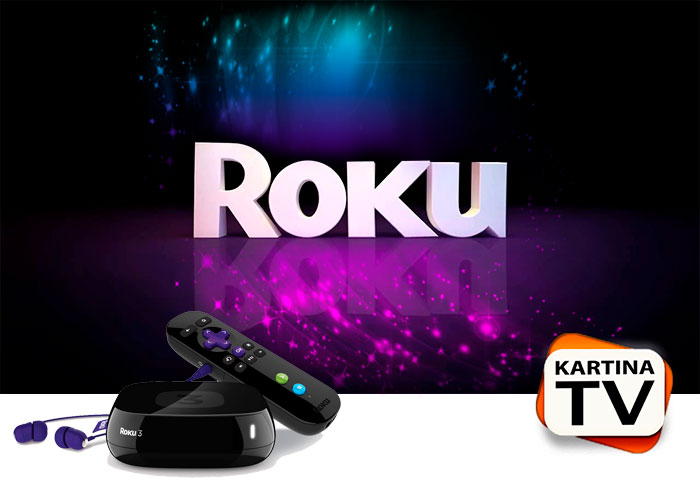 New information from 18.10.2017
Friends and customers of our service, we are glad to introduce you that today Kartina TV App available to download on Roku Players. Don't waste the time which you could spend for watching of the interesting movies with Kartina TV, install the application on the receiver and enjoy your improved entertaining mini-center!

Installed the Kartina TV App on the Roku Player you will have:
Full access to Kartina TV channels (according to your subscription);

You will be able to use function "archive" at any time;

VOD Kartina TV;

The online movie theater "IVI";

Megogo VOD;

Radio Stations.

Installation process Kartina TV App on Roku boxes:
Using the browser login into your Roku account;

Follow the link https://my.roku.com/add/KARTINATVDEMO

Confirm an action by pressing on "OK", and then "Add channel";

Make sure you updated your Roku Player after that;

If Kartina TV App hasn't installed, go to Settings → System → System Update.

New information:
We are planning to release Kartina TV app on Roku Players by the end of November.
Stay tune!
Kartina TV service are available for watching not in USA only, and also all over the world. This small article is not about popularity of our service and about our opportunities, it is about a new alternative way of watching live broadcasts Kartina TV.
What is Roku Player?
Roku is the popular IPTV service which already has multimillion of fans that are loving hi-tech television. The company also releases the Roku boxes deserving attention which possess interesting functions and great simplify customer's life. Even the person who is far from all of these, at least once, heard about Roku, there is no sense of explaining about it.
Kartina TV on Roku Player
Sitting in front of your TV with Roku Player, you will be able to enjoy American channels and also Kartina TV Service. Plex Media Server for Roku will turn your receiver into the real home multimedia entertainment center.
Our customers knows that it is possible to watch Kartina TV on third-party devices. The Roku boxes didn't become an exception. In the nearest future for the Roku boxes is expected release the app which you will able to download free of charge in app store. So owners of Roku receivers will be able to watch Kartina TV soon. Two favorite TV services on the same device is a double pleasure!
Customers will like the fact that it isn't necessary to buy any more an additional box which not only takes the place, adds still a couple of hated wires, but also can spoil an overall picture of a recreation area in your house.
Kartina TV on the Roku Plaers will become soon a real opportunity to enjoy favorite shows and series. It proves ones more our aspiration to keep up to date, improve our services and to provide to our customers.
Pay your attention Kartina TV Brooklyn doesn't provide technical support for problems with the Roku Players!
The detailed instruction for Kartina TV app installation on the Roku Players will be uploaded to our website after carrying out test works.